Business Continuity Planning
Business Continuity
Planning Software
Disaster-proof your business with BCP software from Tandem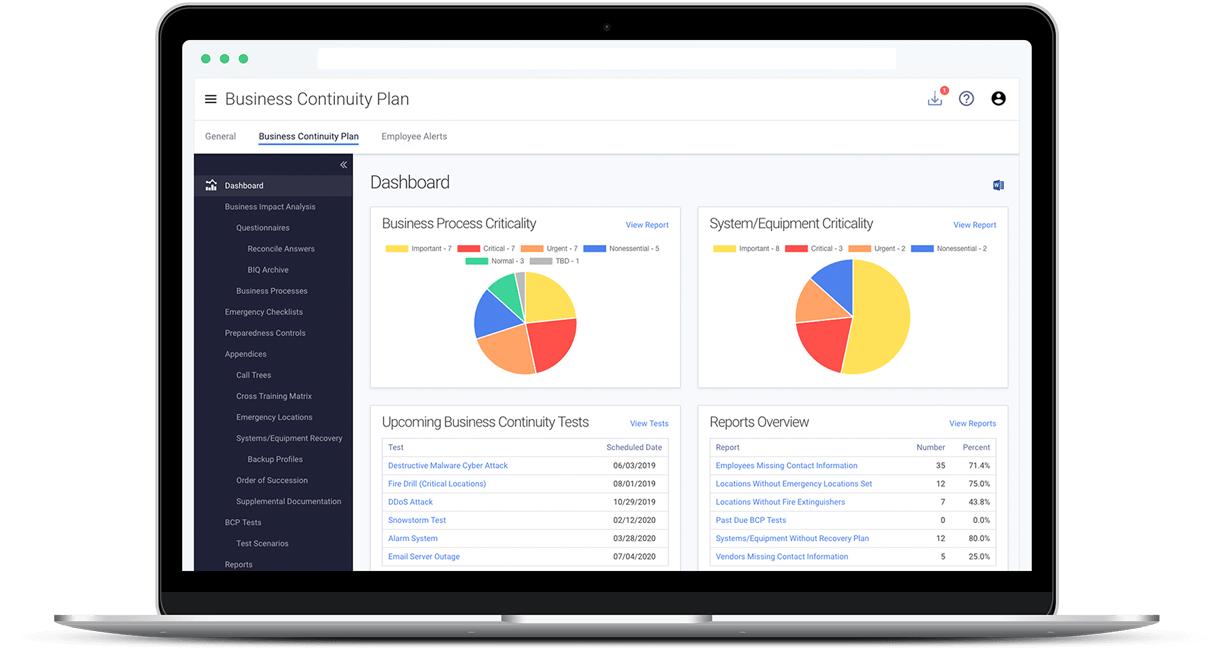 Business continuity and disaster recovery are critical for any company. What do you have in place to manage operations before, during, and after a disaster?
A strong BCP will allow you to effectively manage operations in the event of a disaster and be in compliance.
Business Impact Analysis
Assess the impact of potential disasters on each of your business processes and document the maximum tolerable downtime (MTD).
Business Process Restoration
Mitigate disruptions to business operations by establishing recovery time objectives and identifying dependencies for business processes.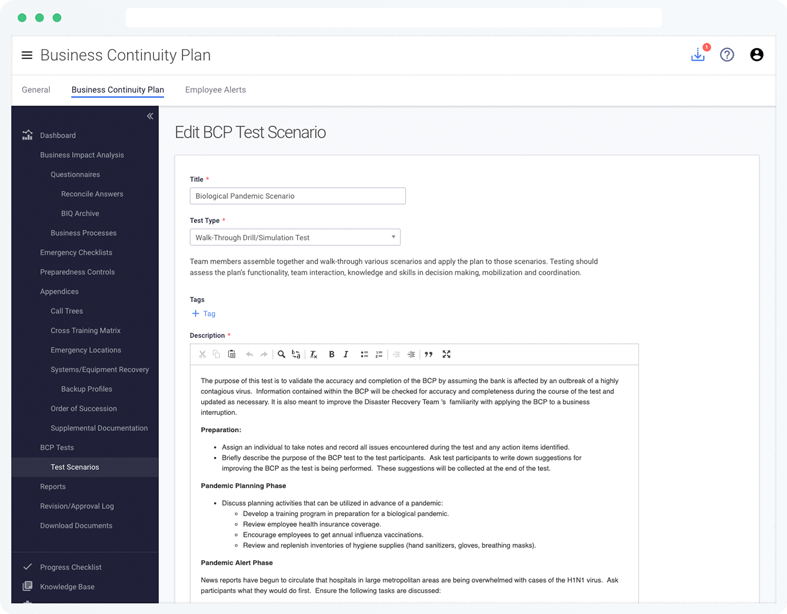 Exercises & Testing
Manage your BCP testing program by planning, executing, evaluating, and documenting tests.
Testing your BCP against diverse scenarios helps ensure familiarity and accuracy of the plans.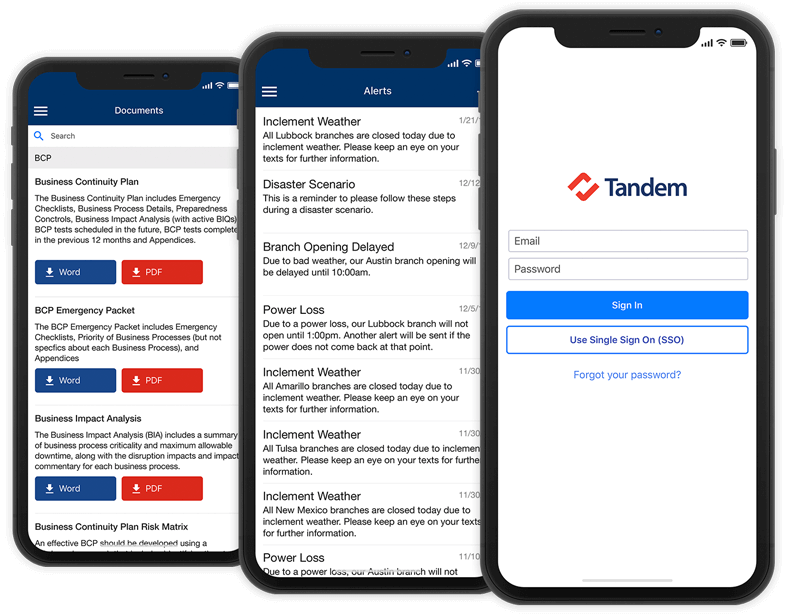 Mobile App
Access your BCP documents, employee list, and vendor contact information from mobile devices. Easily send and receive employee alert messages from your mobile device.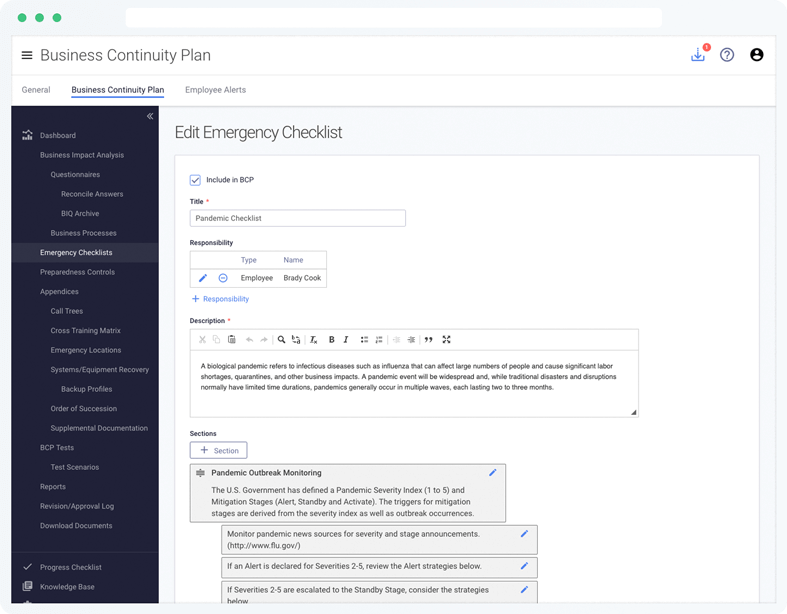 Emergency Checklists
Have a plan for how to respond to reasonably foreseeable interruptions. Start with one of our suggested checklists and build your own.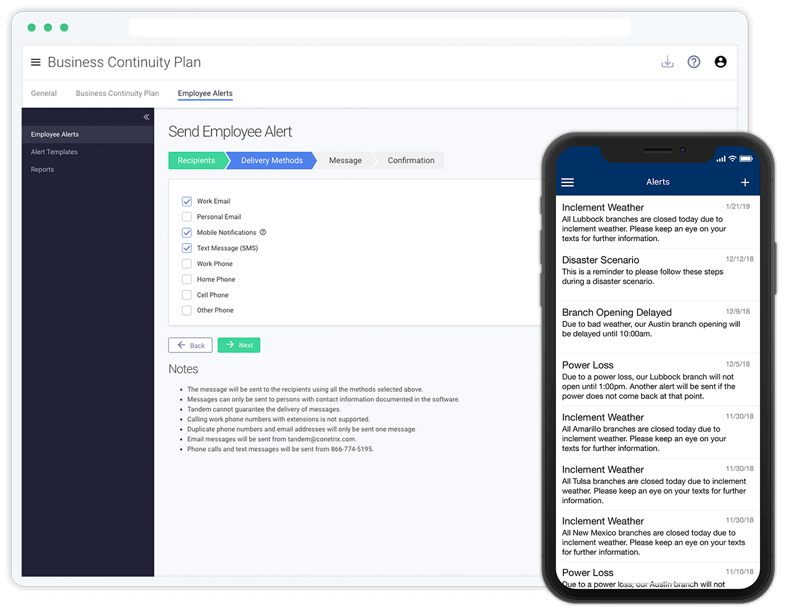 Employee Alerts
Communicate with employees during emergencies, inclement weather, network outages, and more. Send emails, text messages, phone calls, and mobile notifications from your organization.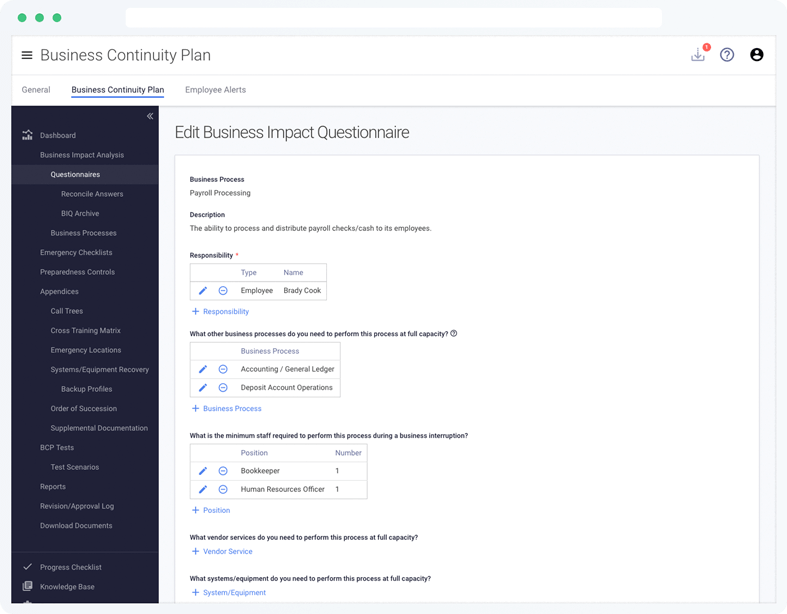 Questionnaires
Distribute the workload of building and maintaining your BCP with pre-built questionnaires and custom access roles.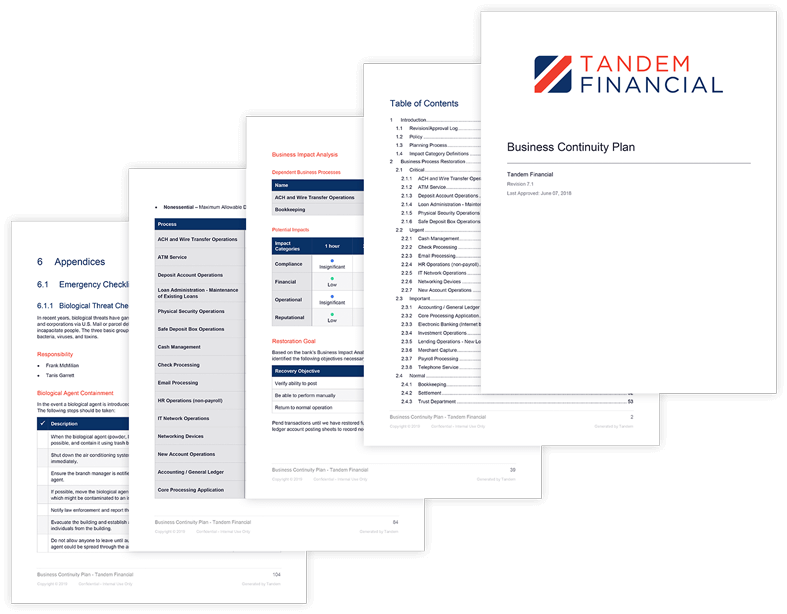 Downloads
Effortlessly generate consistent and professional documents on the fly to share with your executive team, board of directors, auditors, and examiners. These customizable documents are available in Microsoft Word and Adobe PDF formats.
Generate custom documents on the fly to share with the board and auditors. Easy to read Word and PDF documents can be distributed to employees so everyone is prepared to restore operations.
Additional Features
Identify cross trained personnel and order of succession for disaster situations
Document the criticality and recovery plans for systems and equipment
Customize suggested emergency checklists
Document system backup procedures to meet recovery point objectives (PROs)
Customize suggested preparedness controls
Build employee call trees
Specify emergency meeting locations
Upload instructions and procedures to a secure site for remote backup
Run reports to find gaps in your program
Are you interested in
Business Continuity Planning?
Frequently Asked Questions
Does Tandem provide a business continuity plan template?
Yes. Tandem provides template language in the software that we call "suggested content." You can use our suggested content as a starting point, and quickly adapt the language to fit your company's unique requirements.
The suggested content in Tandem is built and maintained by security and compliance experts who perform information security consulting daily.
Is there instructional documentation to help me build my BCP?
Yes. Tandem offers a Knowledge Base with articles written by Tandem experts.
While you navigate the product you will also find help tips along the way.
Is there someone at Tandem who can help me build my BCP?
What training options are available?
Tandem Support is pleased to offer complimentary training webinars twice a month for our customers, and recordings of those training sessions are available on-demand.
A Knowledge Base is available with articles to help you learn about Tandem. You can stay up-to-date on our latest features by subscribing to our Software Update emails.
Personal training is also available by request for an additional fee.
Does this product address disaster recovery?
Yes. Disaster recovery (DR) is a key part of business continuity planning. DR defines how to restore system after a disaster. Tandem includes features to document the recovery of systems and equipment, plus it allows you to identify how to resume business so you can get back to serving your customers as soon as possible. Better than a sample disaster recovery plan, Tandem helps you build a working plan.
Yes. Tandem maintains high marks through the following testing: SSAE 18 SOC 1 Type 2, CompTIA Security Trustmark+, internal audits and assessments, quarterly penetration tests.
Security controls include:
Secure data transmission between your browser and your servers
Data encrypted at rest using AES-256
User passwords are hashed and salted
Datacenter protected by firewall and intrusion detection/prevention systems (IDS/IPS)
Redundant Internet connections
Multifactor authentication options
Single Sign On (SSO) integration using SAML 2.0
IP address restrictions
User activity log
User access roles/restrictions
How is Tandem installed and updated?
Tandem products are delivered via the Internet as Software as a Service (SaaS) applications. Tandem can be accessed from any device with a modern browser. No software installation or special equipment is required.
New features and updates are included with your annual subscription and automatically available. Each new feature is documented in our Software Updates blog.
Does this product integrate with other Tandem products?
Yes. All Tandem products are available under the same secure website.
Tandem BCP is integrated with Risk Assessments and Vendor Management, to provide seamless sharing of data and help avoid duplication of information.
Can I manage accounts for multiple companies?
Yes. With a single login you can manage several companies' business continuity plans (requires a subscription for each company).