Information Security Policies
Policy Management
Software
Create and maintain your enterprise-wide policies with Tandem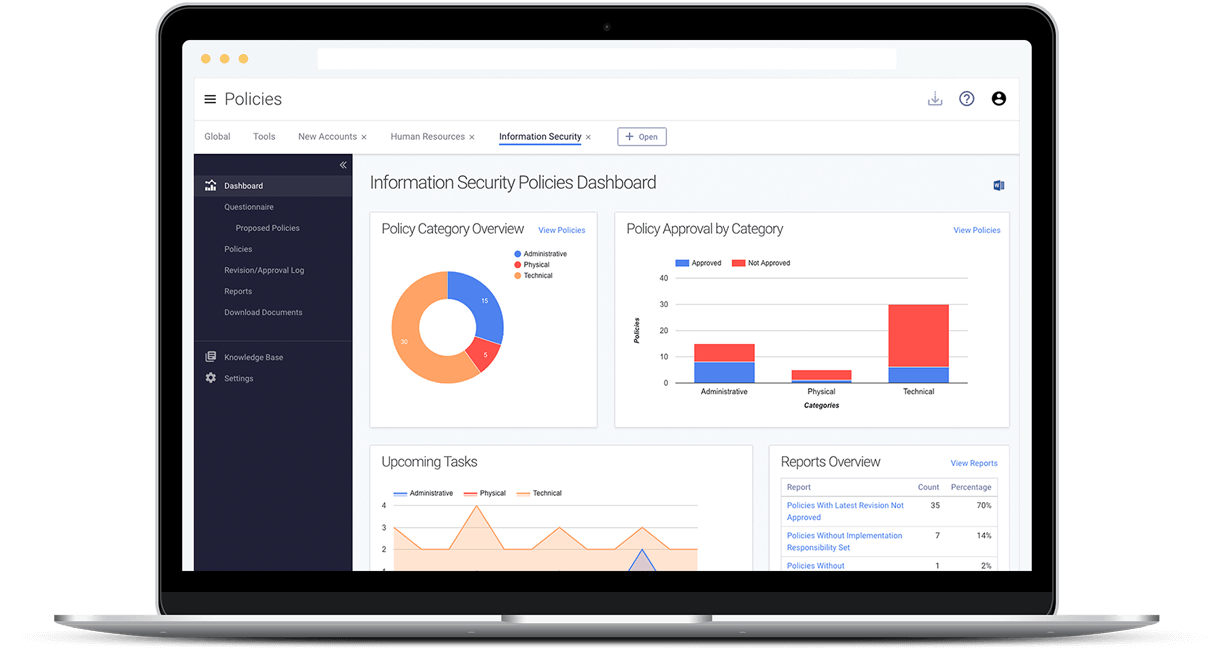 Policies and procedures are the primary methods organizations use to define controls. Too often, policies and procedures end up sitting on a desk and collecting dust.
With Tandem Policy Management software, you can maintain a living set of policies that is easily accessible.
Information Security Policies
Use Tandem Policies to access a complete list of 50+ information security policy templates, created by security experts and tailored for your institution through a multiple-choice questionnaire.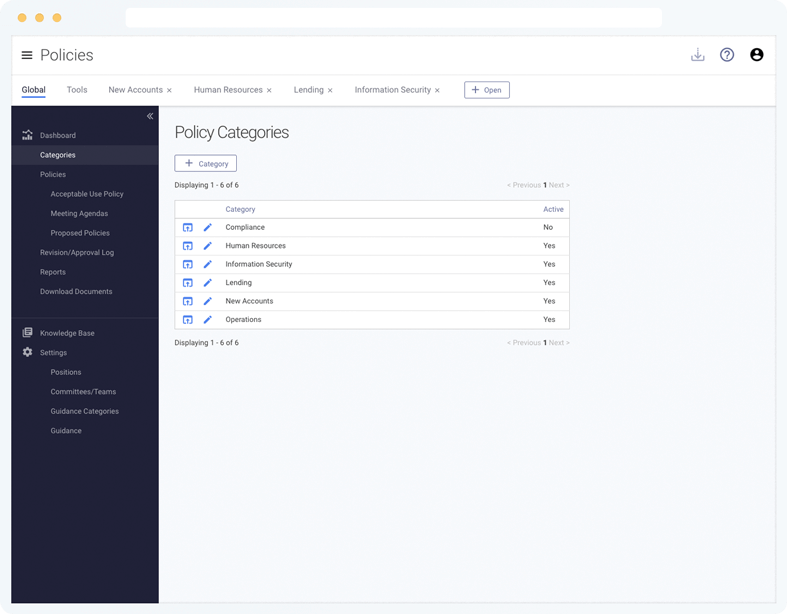 Enterprise-Wide Policies
In addition to Information Security policies, create your own custom categories (e.g. Lending, Operations, Human Resources, etc.).
While policy language is not provided for custom categories, you can add your existing language and use Tandem's tracking features.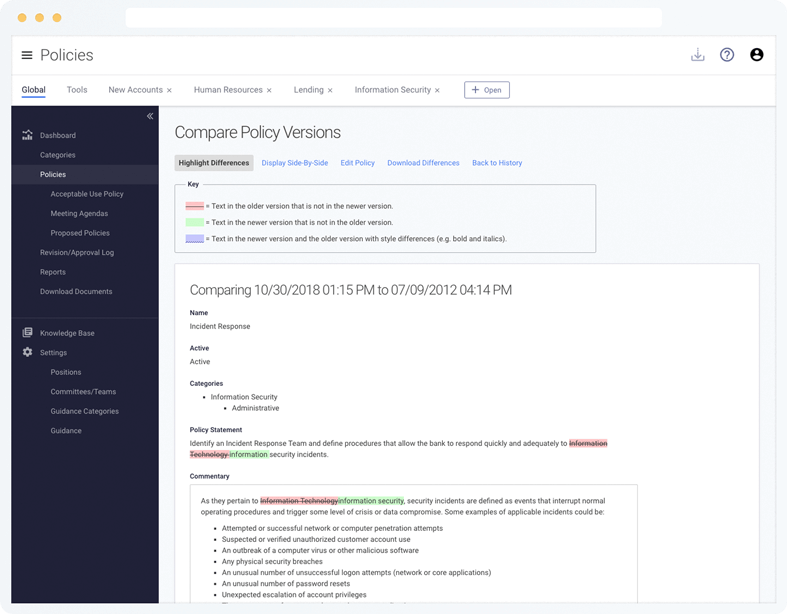 Tracking & Oversight
Never lose track of a single change. Every time a policy is saved, a version is stored in Tandem for comparing over time and reporting to the board.
Use the revision logs and meeting agendas to make maintenance easy.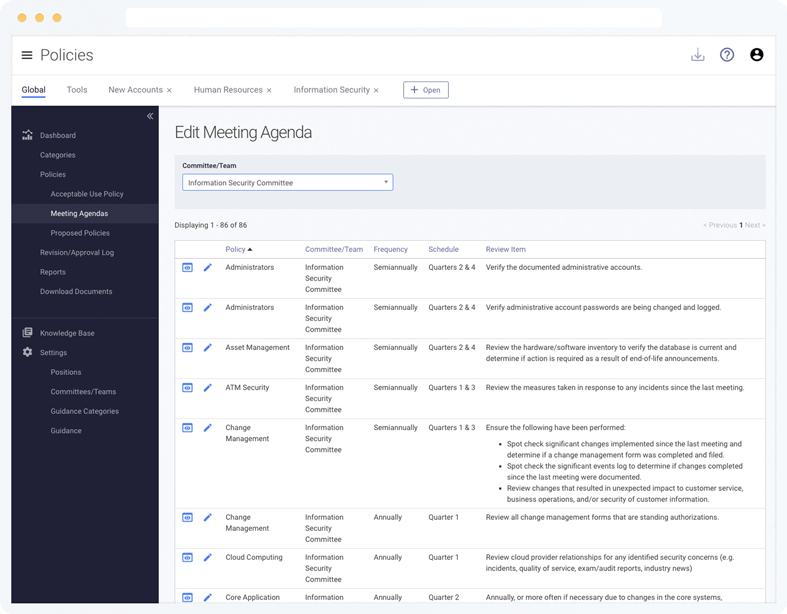 Meeting Agendas
Document how, when and who will verify each policy. Then let Tandem generate meeting agendas for each team.
These meeting agendas will always accurately reflect your policies and help ensure items don't fall through the cracks.
Multi-User Access
Control who has access to your policies and monitor the changes they make.
Use category specific access roles to ensure users can customize their own policy categories without being able to change other policies.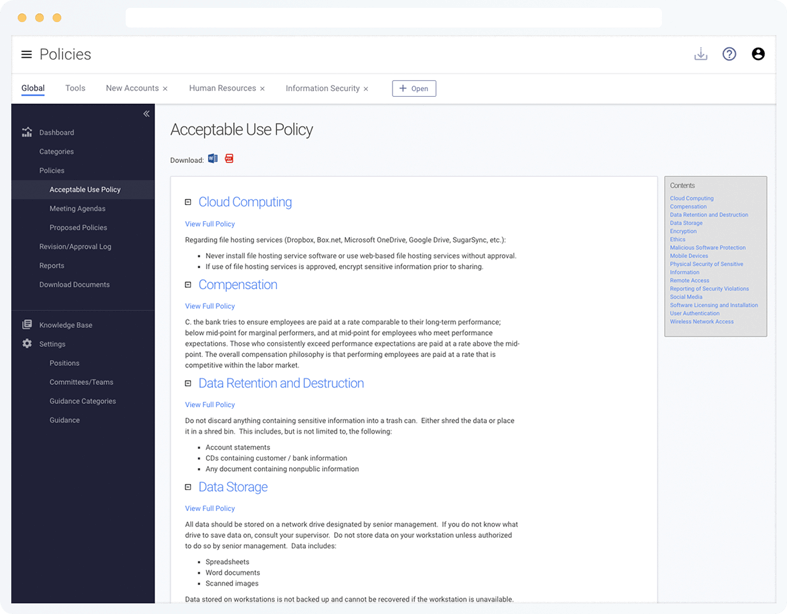 Acceptable Use Policy Training
Enroll employees in an online AUP training course, generated from your policy language.
The online training options allow digital tracking of employees' acceptance of the institution's Acceptable Use Policy.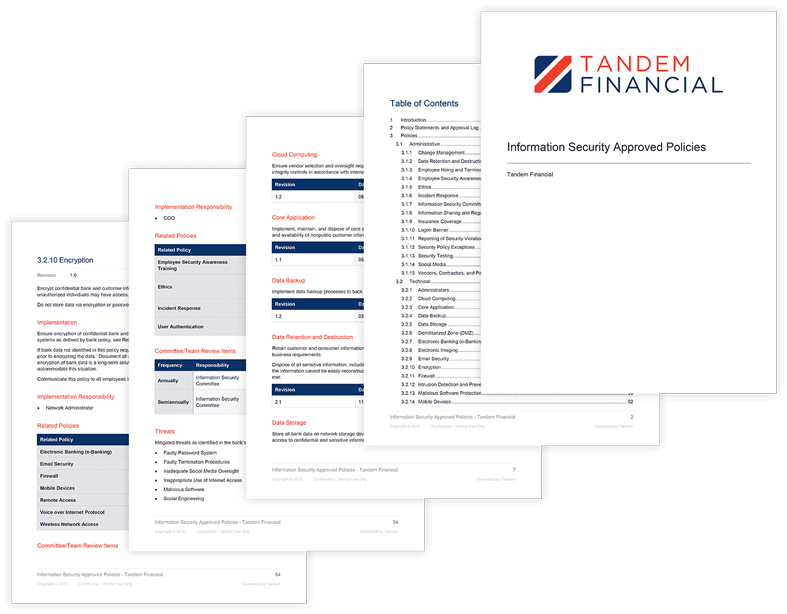 Downloads
Effortlessly generate consistent and professional documents on the fly to share with your executive team, board of directors, auditors, and examiners.
These customizable documents are available in Microsoft Word and Adobe PDF formats.
Additional Features
Maintain a complete revision history of policies
Create a revision/approval log
Use global reporting to generate standardized documents
Create an unlimited number of policies and categories
Create tasks, assign them to users, and monitor their status
Identify gaps with reports
Add as many user and administrator accounts as needed
Are you interested in
Policy Management Software?
"Thanks for all that you folks do to support and improve the software. We've been impressed with Tandem since day one; especially the responsiveness of the support and development teams with our needs and requests for new features. Thanks for all you do."
"We are so happy to have a partner like Tandem. Your products help our community bank compete with larger, regional and national banks without the expense of a huge staff."
Chris Manus
Information Technology Manager
Citizens Bank in Carthage, TN
"If honesty and integrity are values that resonate when selecting an Information Security technology partner, then Tandem software is for your institution. Every employee on the Tandem team is committed to sustaining tools for your bank to build a custom program compliant with current regulatory guidance."
Jack Clarke
VP of Operations
First American Bank in Artesia, NM
"The Tandem Business Continuity Planning software has streamlined how we manage business continuity for our bank. Before Tandem, we lost files and had to update and make changes to a Word document. This software has helped us focus on the important aspects of business continuity and made it easier to update, train, and report to our Board of Directors."
Brandi Shiflett, EVP
Senior Operations Officer
North Dallas Bank & Trust Co in Dallas, TX
"Tandem's Business Continuity Planning software is a strong program that integrates well with Tandem's Vendor Management software. It provides good reports for our Board of Directors and Management. It is easy to update, and I am able to access it from anywhere… even on my phone."
James Tipton, EVP
Enterprise Risk Manager
North Dallas Bank & Trust Co. in Dallas, TX
"Tandem's Business Continuity Planning software has given us the direction we needed to establish good processes for our organization."
Ron Dittmann
VP of IT
Texas Trust Credit Union in Mansfield, TX
"Tandem is an excellent product that I highly recommend. It has helped us to fill the gaps regarding our BCP and Risk Assessments. It was a major help with our last NCUA exam with the addition of the ACET request list. I have nothing but great things to say about Tandem!"
Crystal Woodward-Smith
Compliance Officer
Hope Federal Credit Union in Jackson, MS
"First, I want to thank Tandem for being such a great partner of ours. We are extremely grateful for the tools you have provided. Particularly, your BCP program and the employee alert system. As of right now that is our main communication system for most of our employees."
"Tandem is extremely easy to use. I just started in the system (in earnest) and was able to quickly navigate through the steps. It's very logical, comprehensive and I'm hopeful it will result in easier reports and exams. It's a phenomenal option for a bank our size."
Robin Banell
VP of Compliance, Internal Control Officer
F & M Bank in Edmond, OK
"Tandem Vendor Management has made the process for collecting and tracking documents a breeze. The Vendor Management system is easy to use, yet quite powerful software. The software has saved us time from old spreadsheets and a manual vendor review process. I would highly recommend any organization to this system."
Kyle Moreland
Compliance Officer
Johnson City Bank in Johnson City, TX
Frequently Asked Questions
Does Tandem provide policy templates?
Yes. Tandem provides more than 50 common information security policy templates.
The suggested policies are custom to your organization from the start, because their wording is generated from a multiple-choice questionnaire you complete. Each policy includes suggested wording, verification items, related threats and regulatory guidance.
The list of suggested policies includes:
Change Management Policy
Core Application Policy
Electronic Banking (e-Banking) Policy
Incident Response Policy
Intrusion Detection and Prevention Policy
Mobile Devices Policy
Social Media Policy
Wireless Network Access Policy
Remote Access Policy
Password Management Policy
Third-Party Secure Application Development Policy
And over 40 more
Are the suggested information security policies mapped to guidance and standards?
Yes. The suggested information security policies are mapped to regulatory guidance for financial institutions (i.e., FFIEC, FDIC, OCC, FRB, and NCUA).
Additionally, Tandem allows you to optionally include references to the following standards:
COBIT 4.1
NIST SP800-53
PCI DSS vs. 3.1
Is there instructional documentation to help me manage my policies?
Yes. Tandem offers a Knowledge Base with articles written by Tandem experts.
While you navigate the product you will also find help tips along the way.
Is there someone at Tandem who can help me build my policies?
What training options are available?
Tandem Support is pleased to offer complimentary training webinars twice a month for our customers, and recordings of those training sessions are available on-demand.
A Knowledge Base is available with articles to help you learn about Tandem. You can stay up-to-date on our latest features by subscribing to our Software Update emails.
Personal training is also available by request for an additional fee.
Yes. Tandem maintains high marks through the following testing: SSAE 18 SOC 1 Type 2, CompTIA Security Trustmark+, internal audits and assessments, quarterly penetration tests.
Security controls include:
Secure data transmission between your browser and your servers
Data encrypted at rest using AES-256
User passwords are hashed and salted
Datacenter protected by firewall and intrusion detection/prevention systems (IDS/IPS)
Redundant Internet connections
Multifactor authentication options
Single Sign On (SSO) integration using SAML 2.0
IP address restrictions
User activity log
User access roles/restrictions
How is Tandem installed and updated?
Tandem products are delivered via the Internet as Software as a Service (SaaS) applications. Tandem can be accessed from any device with a modern browser. No software installation or special equipment is required.
New features and updates are included with your annual subscription and automatically available. Each new feature is documented in our Software Updates blog.
Does this product integrate with other Tandem products?
Yes. Tandem Policies integrate with the Tandem Information Security Risk Assessment product.
By using both modules, policies are easily mapped to threats to remain consistent with risk assessment requirements.
All Tandem products are available under the same secure website.
Can I manage accounts for multiple companies?
Yes. With a single login you can manage several companies' policies (requires a subscription for each company).