Industries - Mortgage Companies
Information Security and Compliance Software for Mortgage Companies
Managing information security requirements for mortgage companies can be a challenge. Implementing the standards while ensuring successful operations can feel like a juggling act without the right kind of help.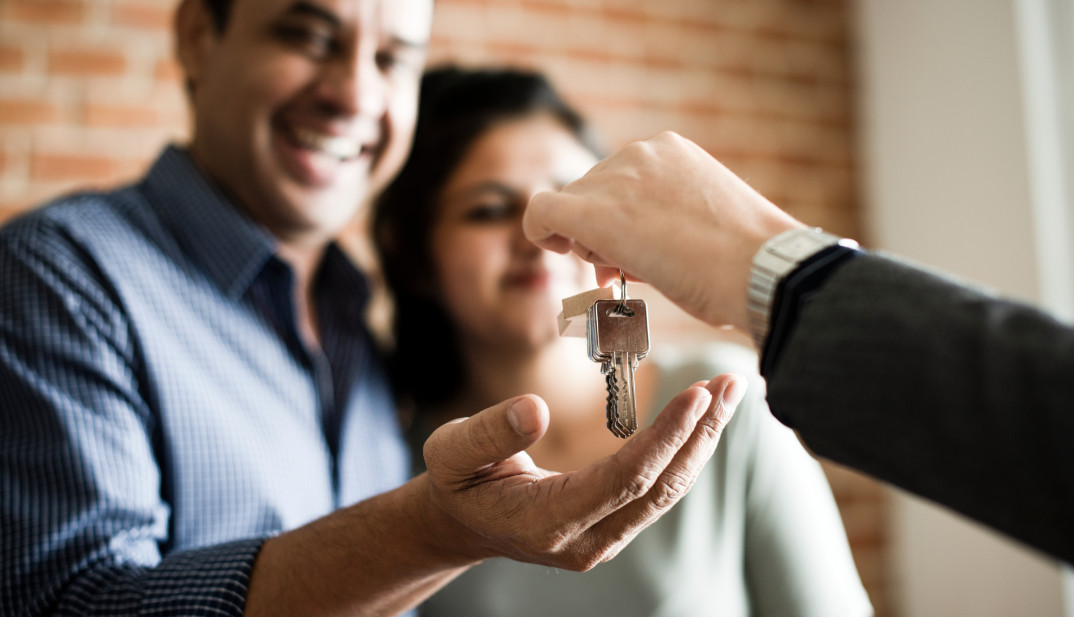 Tandem is a governance, risk management, and compliance (GRC) solution which makes creating and managing each element of the mortgage company's information security program easy.
The Tandem web application was built specifically for financial institutions, like mortgage companies, to help increase security, stay in compliance with GLBA and FTC regulations, and lower overhead costs.
Tandem's suite of GRC products for mortgage companies includes Risk Assessment, Policies, Business Continuity Planning, Vendor Management, Incident Management, and more.
Tandem is designed to help mortgage companies improve their security, maintain compliance, and save time by automating their cybersecurity processes with ease.
Compliance
Tandem tracks and implements changes to our suite of products in accordance with mortgage company regulations and guidance. This means, you can partner with us to help ensure your information security policies, risk assessments, and other compliance documents stay up to date.
Our software helps you maintain compliance with the following sources of regulatory guidance for mortgage companies.
Gramm-Leach-Bliley Act (GLBA)
Federal Trade Commission (FTC) Standards for Safeguarding Customer Information
Federal Financial Institutions Examination Council (FFIEC) IT Examination Booklets
Consumer Financial Protection Bureau (CFPB) Information Technology Examination Procedures
Cybersecurity and Infrastructure Security Agency (CISA) Alerts and Tips
National Institute of Standards and Technology (NIST) Publications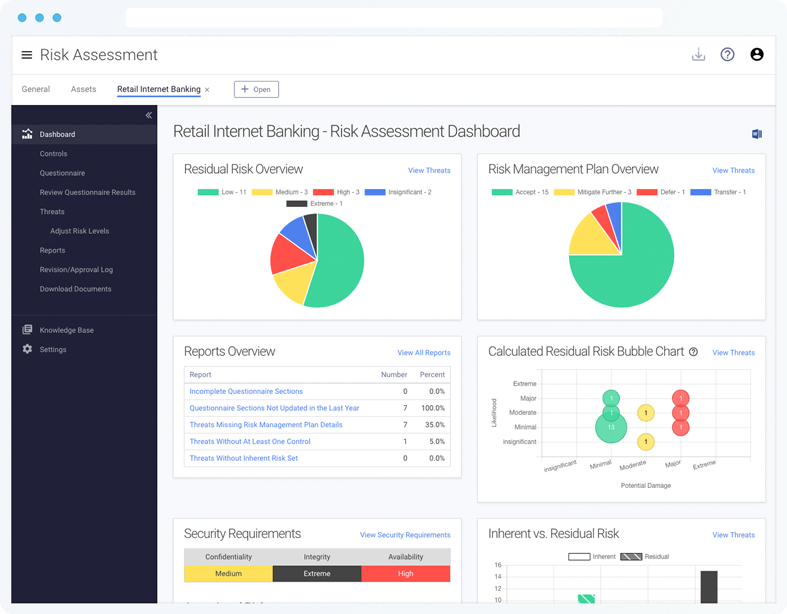 Dashboards
Review visual representations of your identity theft prevention program on a dashboard.
Evaluate useful insights into your red flags risk assessment, as well as a series of reports, designed to ensure your program does not contain any missing or incomplete data.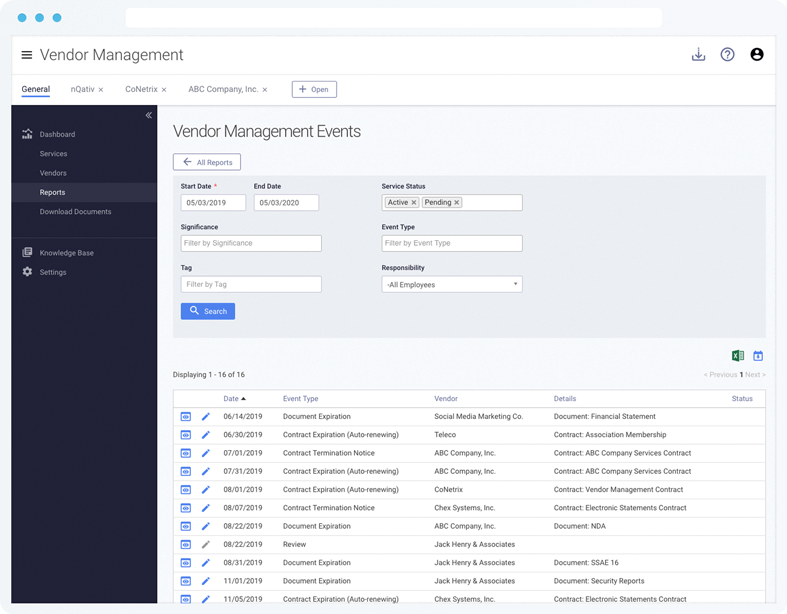 Reporting
Use more than 30 flexible reports to increase visibility into your vendor relationships and identify gaps in your vendor oversight program.
Based on the data stored in Tandem's central database, these reports provide accurate and efficient details about your vendor contracts, documents, and reviews. Get equipped you with the data you need to make informed decisions.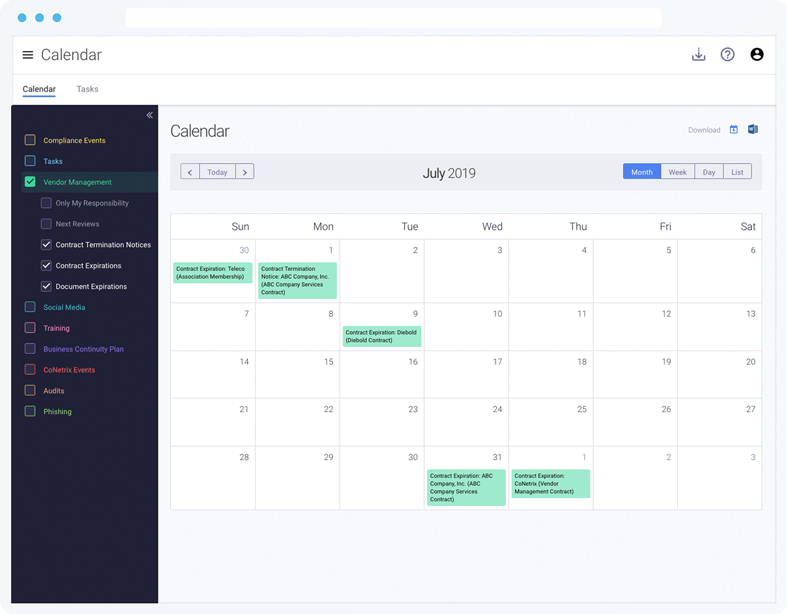 Calendars
Gain full insight into your upcoming and past due oversight events through a calendar view, reports, and customizable email reminders.
Ensure responsible parties are aware of events such as contract expirations, termination notices, document expirations, and scheduled reviews.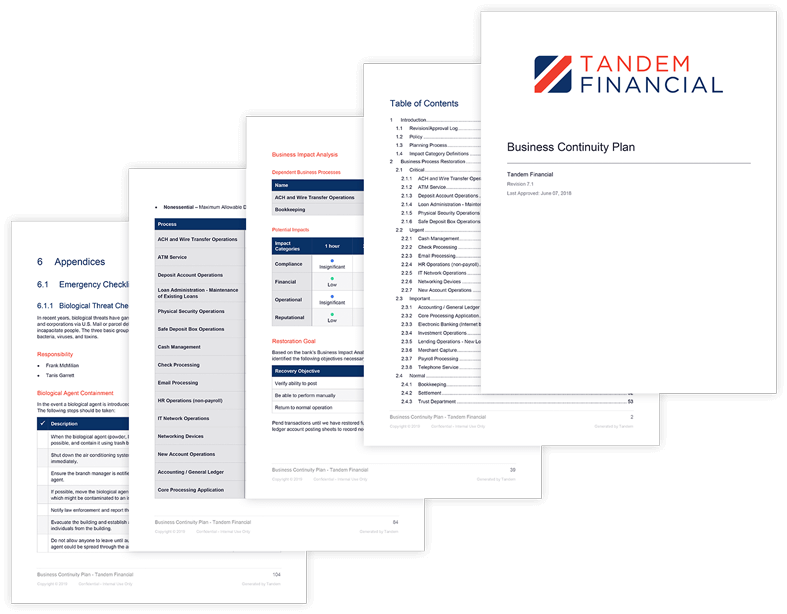 Downloads
Effortlessly generate consistent and professional documents on the fly to share with your executive team, board of directors, auditors, and examiners. These customizable documents are available in Microsoft Word and Adobe PDF formats.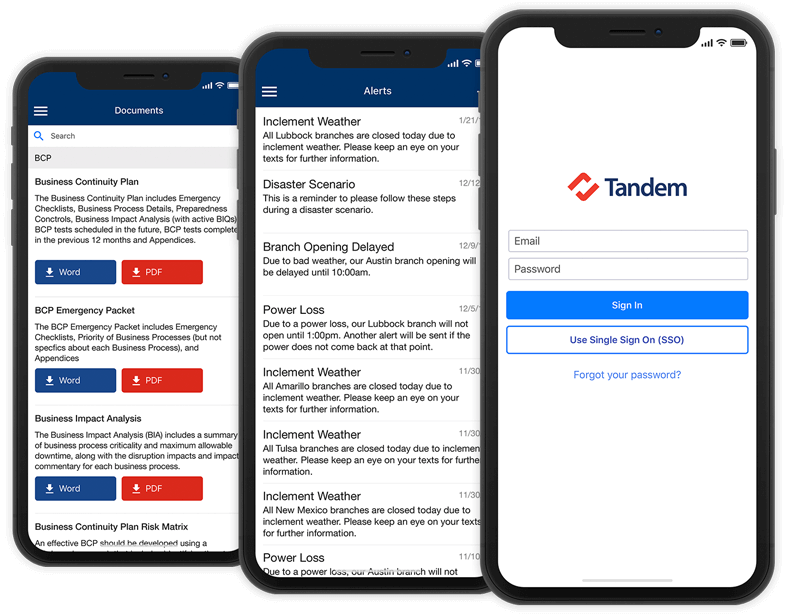 Mobile App
Access your BCP documents, employee list, and vendor contact information from mobile devices. Easily send employee alert messages from your mobile device.
Tandem Products
Tandem's entire suite of software-as-a-service (SaaS) products are designed specifically to help mortgage companies with limited resources improve their information security, stay in compliance, and lower overhead costs.
"The Tandem Business Continuity Planning software has streamlined how we manage business continuity for our bank. Before Tandem, we lost files and had to update and make changes to a Word document. This software has helped us focus on the important aspects of business continuity and made it easier to update, train, and report to our Board of Directors."
Brandi Shiflett, EVP
Senior Operations Officer
North Dallas Bank & Trust Co in Dallas, TX
"Tandem's Business Continuity Planning software is a strong program that integrates well with Tandem's Vendor Management software. It provides good reports for our Board of Directors and Management. It is easy to update, and I am able to access it from anywhere… even on my phone."
James Tipton, EVP
Enterprise Risk Manager
North Dallas Bank & Trust Co. in Dallas, TX
"Tandem's Business Continuity Planning software has given us the direction we needed to establish good processes for our organization."
Ron Dittmann
VP of IT
Texas Trust Credit Union in Mansfield, TX
"Tandem is an excellent product that I highly recommend. It has helped us to fill the gaps regarding our BCP and Risk Assessments. It was a major help with our last NCUA exam with the addition of the ACET request list. I have nothing but great things to say about Tandem!"
Crystal Woodward-Smith
Compliance Officer
Hope Federal Credit Union in Jackson, MS
"First, I want to thank Tandem for being such a great partner of ours. We are extremely grateful for the tools you have provided. Particularly, your BCP program and the employee alert system. As of right now that is our main communication system for most of our employees."
"Tandem is extremely easy to use. I just started in the system (in earnest) and was able to quickly navigate through the steps. It's very logical, comprehensive and I'm hopeful it will result in easier reports and exams. It's a phenomenal option for a bank our size."
Robin Banell
VP of Compliance, Internal Control Officer
F & M Bank in Edmond, OK
"Thanks for all that you folks do to support and improve the software. We've been impressed with Tandem since day one; especially the responsiveness of the support and development teams with our needs and requests for new features. Thanks for all you do."
"We are so happy to have a partner like Tandem. Your products help our community bank compete with larger, regional and national banks without the expense of a huge staff."
Chris Manus
Information Technology Manager
Citizens Bank in Carthage, TN
"Tandem Vendor Management has made the process for collecting and tracking documents a breeze. The Vendor Management system is easy to use, yet quite powerful software. The software has saved us time from old spreadsheets and a manual vendor review process. I would highly recommend any organization to this system."
Kyle Moreland
Compliance Officer
Johnson City Bank in Johnson City, TX
"We started using Tandem for our vendor management program in late 2014. Right from the start we found the software easy to use and perfect for our needs. Their support team is responsive and friendly and continues to exceed our expectations. We find the free training sessions, videos, and knowledge base extremely helpful. Tandem has been a great business partner and it is a pleasure to work with them."