Cybersecurity Assessment Tool
Cybersecurity Assessment
Tool Software
Complete your cybersecurity assessments with Tandem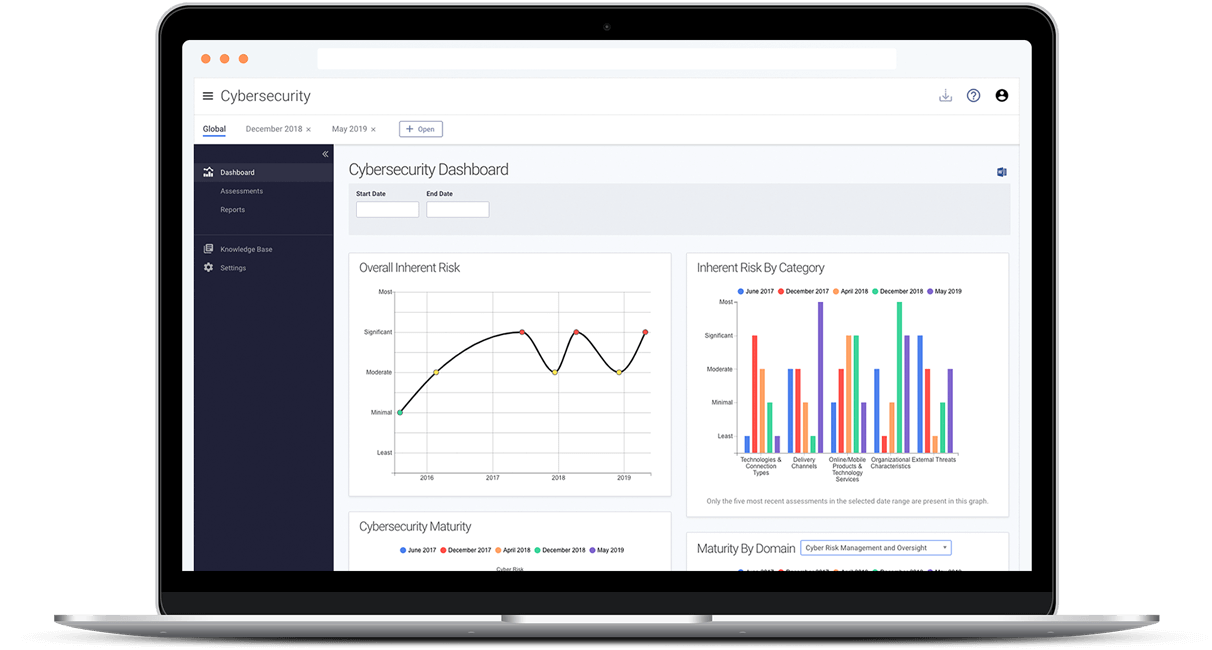 Complete the FFIEC's Cybersecurity Assessment Tool (CAT) and the NCUA's Automated Cybersecurity Examination Tool (ACET) in an easy, efficient, and repeatable way.
Tandem has taken the CAT and turned it into a living, online framework that streamlines the way financial institutions complete their cybersecurity assessments.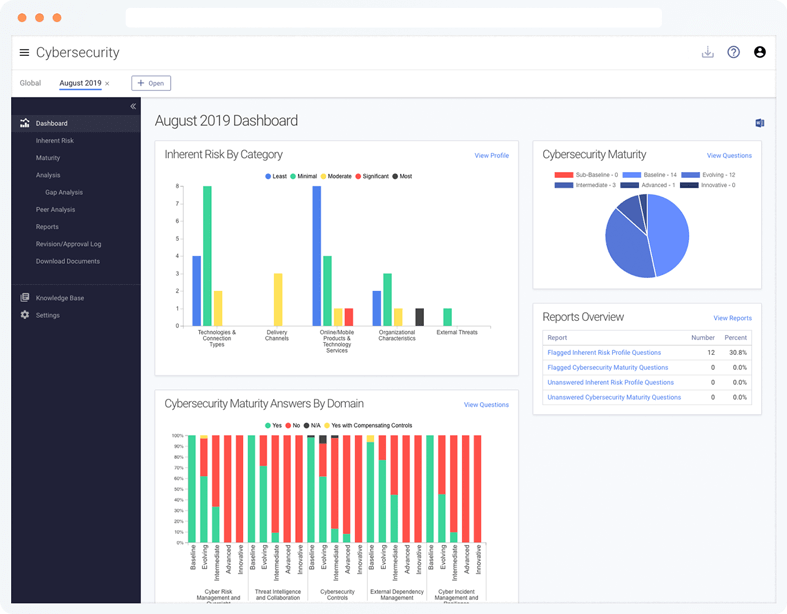 Dashboards
Review visual representations of your assessments.
Evaluate useful insights into your cybersecurity risk and maturity, as well as a series of reports, designed to ensure your assessment does not contain any missing or incomplete data.
Management Tools
Simplify your workload by using Tandem's assessment management tools.
Delegate responsibility for assessment questions or categories, schedule follow-up tasks and notifications, and copy previous assessments when it's time for an update.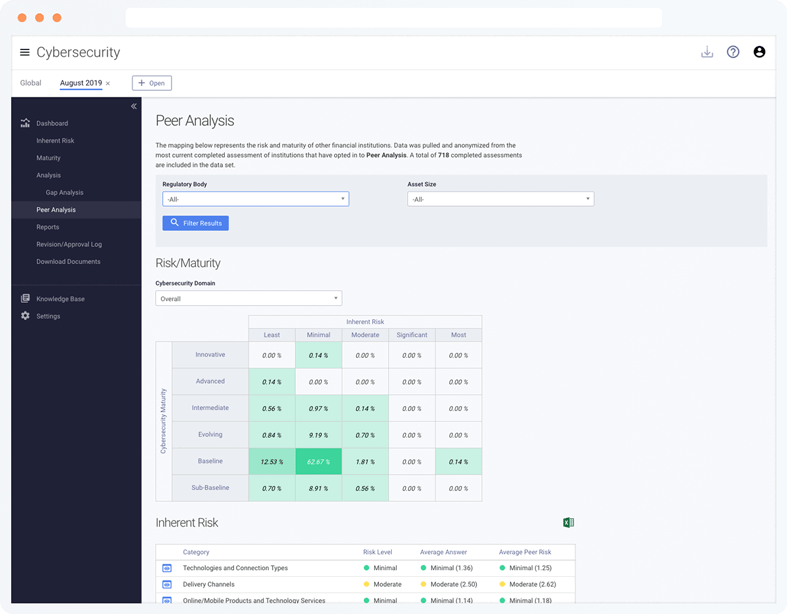 Peer Analysis
Gain perspective into your assessment results by anonymously comparing your answers with the answers of more than 700 other organizations who have completed their assessments with Tandem.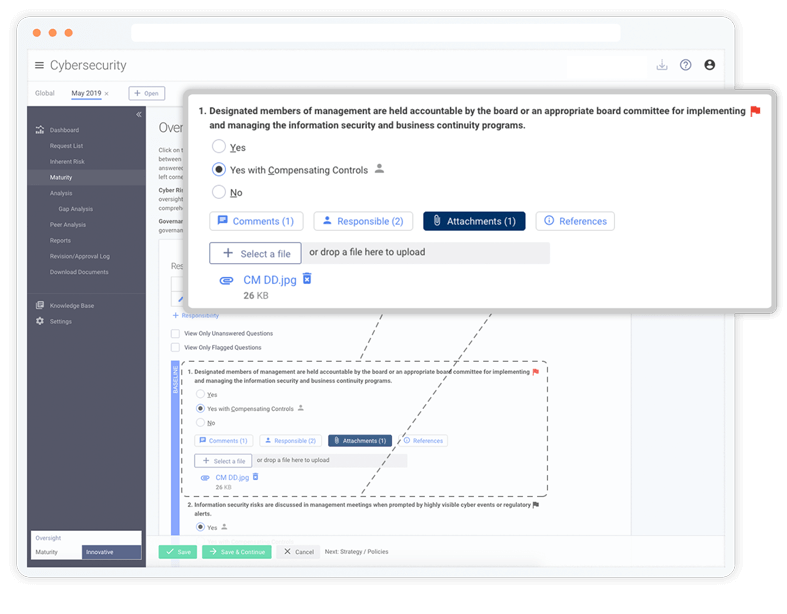 Substantiated Evidence
Upload file attachments to each statement with Tandem Cybersecurity Pro.
Storing your documentation in this way helps validate your answers and ensure your assessment is audit and examination ready. Export the attachments, along with your assessment spreadsheet in a .zip folder.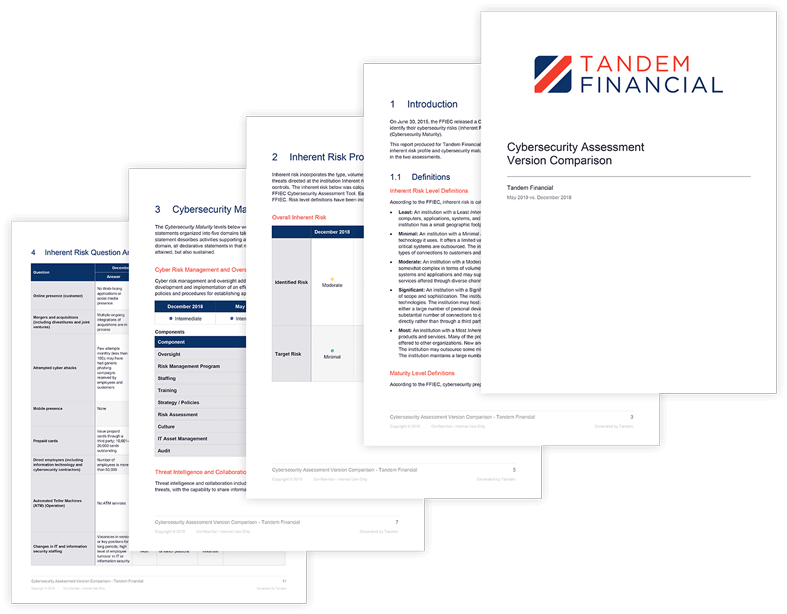 Compare Assessments
Copy and compare your assessments with Tandem Cybersecurity Pro.
Observe your organization's improvement over time with a dashboard, designed to show long-term trends in risk and maturity, and a version comparison download, designed to summarize and present the differences between two assessments.
Gap Analysis
Generate an action plan to improve your cybersecurity maturity to reach the target levels defined by your organization's board of directors and senior management.
Create and assign tasks to ensure follow through on action items, ultimately improving your maturity.
Downloads
Generate consistent and professional documents effortlessly.
Share your full assessment with your auditors and examiners, a summary report with your board of directors, or a comparison between two versions with your senior management.
These customizable documents are available in Microsoft Word, Microsoft Excel, and Adobe PDF formats.
Frequently Asked Questions
How does the peer analysis feature work and do I have to include my data?
The peer analysis feature uses anonymous aggregate peer data to see how you compare with other Tandem customers in this ever-evolving cyber landscape. You can choose to include or exclude your data in the anonymous peer data set at any time.
With the Pro version, you can filter the peer results by regulatory body and asset size.
Is there someone at Tandem who can help me complete my cybersecurity self-assessment?
Yes. Tandem Support is available 8:00 AM – 5:00 PM (CT), Monday through Friday to answer your questions about Tandem application features.
You are also invited to attend our annual KEYS conference to connect with other users and learn from Tandem experts.
For cybersecurity consulting, check out our partners. Tandem partners can assist with item such as:
Annual cybersecurity training for your Board of Directors
Assistance with reporting your cybersecurity assessment results to the Board
Consulting services, related to the FFIEC Cybersecurity Assessment Tool
Employee training on the Tandem Cybersecurity module
What training options are available?
Tandem Support is pleased to offer complimentary training webinars twice a month for our customers, and recordings of those training sessions are available on-demand.
A Knowledge Base is available with articles to help you learn about Tandem. You can stay up-to-date on our latest features by subscribing to our Software Update emails.
Personal training is also available by request for an additional fee.
Yes. Tandem maintains high marks through the following testing: SSAE 18 SOC 1 Type 2, CompTIA Security Trustmark+, internal audits and assessments, quarterly penetration tests.
Security controls include:
Secure data transmission between your browser and your servers
Data encrypted at rest using AES-256
User passwords are hashed and salted
Datacenter protected by firewall and intrusion detection/prevention systems (IDS/IPS)
Redundant Internet connections
Multifactor authentication options
Single Sign On (SSO) integration using SAML 2.0
IP address restrictions
User activity log
User access roles/restrictions
How is Tandem installed and updated?
Tandem products are delivered via the Internet as Software as a Service (SaaS) applications. Tandem can be accessed from any device with a modern browser. No software installation or special equipment is required.
New features and updates are included with your annual subscription and automatically available. Each new feature is documented in our Software Updates blog.
Does this product integrate with other Tandem products?
Yes. All Tandem products are available under the same secure website.
Each baseline maturity statement includes a reference option which can be enabled to display areas of Tandem (e.g., Policies, Business Continuity Plan, Vendor Management, etc.) where the concept may be addressed, if using Tandem recommended content.
Can I manage accounts for multiple companies?
Yes. With a single login you can manage several companies' cybersecurity assessments (requires a subscription for each company).